What is Salesforce
Over 150,000 brands, be it big or startups, are growing unexpectedly and boosting their revenue with Salesforce.
Salesforce is the top and leading customer relationship management (CRM) platform. It assists sales, marketing, IT, service, and commerce teams to work together regardless of geographic location. So, it's time now, you can make your customers happy from anywhere and everywhere.
Well, Salesforce unites various teams from anywhere with Customer 360, which is an integrated CRM platform that strengthens a comprehensive suite of connected apps. With Customer 360, one can make his employees focus on what's more important at the current moment – making business stable, reopening, or going back to deliver outstanding customer experience.
Why Salesforce
Salesforce takes care of all the parts of customer relationships, starting from marketing to service. Also, it's known for its various acts:
It engages customers from anywhere with empathetic, relevant digital marketing.
It sells smarter and helps in growing businesses faster, regardless of any geographical location.
It offers great customer service, again from anywhere.
It helps in launching and scaling eCommerce developed around the customer, from anywhere.
It goes digital at a faster pace and empowers the teams to perform their job from anywhere.
Top Salesforce Products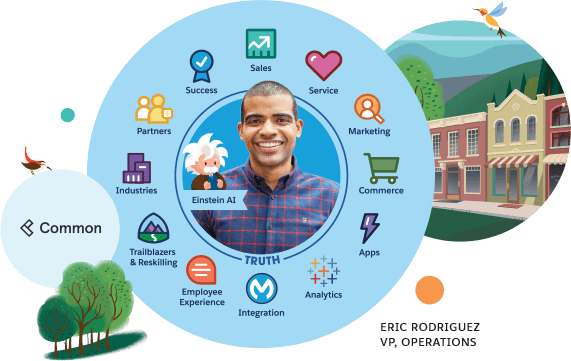 Salesforce provides its CRM service all through the below Top Salesforce Products:
Salesforce Sales Cloud: One of the widely known Salesforce products, Sales Cloud, attempts hard to meet your sales targets by identifying, selling, and handling your customers and prospects. It offers your sales team the tools to close enhanced deals faster, increase productivity, and keep the pipeline filled with solid leads, from anywhere.
Salesforce Service Cloud: A Salesforce app that supports all the customers from anywhere, at any time, namely Service Cloud, helps in managing customers cases by offering the tools to the agents. It employs various features, such as multichannel support, knowledge bases, communities, social service, consoles, and collaboration.
Salesforce Marketing Cloud: Previously known as ExactTarget, Social Marketing Cloud is the digital marketing hand of the Salesforce product family. It allows digital marketers to deliver personalized, one-to-one email communications that result in better customer engagement and marketing ROI.
Salesforce Community Cloud: A cloud service model, Community Cloud offers a cloud computing solution to finite organizations or individuals, that is commonly controlled, managed, and secured by a 3rd-party managed service provider or every participating organization.
Salesforce Analytics Cloud: A sort of cloud service model, Analytics Cloud, here data analysis, and relevant services are conducted on a private or public cloud.
Salesforce Apps Cloud: An app program, Application Cloud, functions in the cloud along with some features of a pure Web app and a pure desktop app. A Web app resides completely on a remote server and through a browser interface, is delivered over the Internet. A desktop app is stored comprehensively on a single device at the location of the user.
Salesforce IoT Cloud: A hot topic today, among the Salesforce Products, IoT Cloud will soon offer various opportunities along with many challenges. It is a giant network of linked things. It is a link between thing-thing, people-thing, and thing-people. IoT is a technology that connects people with all the possible things all over the globe to ease human life. It targets on converting connected devices into useful customer data.
Industry-Specific Salesforce Solutions
Top Salesforce Development Companies
Well, there are various Salesforce Development companies all over the world, but picking the right partner is not that easy. So, to ease you, the following are some handpicked Top Salesforce Development Companies that you may consider before finalizing your Salesforce service partner.
Holding skilled and certified Salesforce developers, admins, and Salesforce consultants on board, Itransition, assists its clients in attaining maximum ROI. It implements and configures exceptional Salesforce functionality or develops custom Salesforce-based apps for distinct roles and units to automate business processes all across the companies.
From startups to enterprises, Algoworks helps the organizations in making more out of their Salesforce CRM. This company is a perfect Salesforce Development Expert. And yes, it also redefines the way of using Salesforce for its clients. Moreover, it helps the organizations in Salesforce planning, designing, and implementation depending on business solutions.
By offering an out-of-the-box CRM approach and powerful software, Sciencesoft is offering efficient customer relationship management services. Its proficient team helps its clients at any phase of Salesforce implementation, starting from Salesforce Consulting and tweaking the platform to the custom solution development and the user training.
Emizentech is a one-stop destination where you can meet all your Salesforce needs. A leading Salesforce partner, Emizentech offers end-to-end Salesforce Implementation solutions customized to your requirements and business needs with individually configured workflows, enhanced custom functionality, and automated processes. By holding robust experience in software development, the company comes with best development practices into Salesforce configuration, implementation, customization services.
Cyntexa assists its clients in growing their business with exclusive Salesforce platforms. It has implemented industry-leading products of Salesforce for various startups, and all sized enterprises. It holds an amazing Salesforce team including certified Salesforce developers, administrators, consultants, and MVPs who always provide excellence, and nothing else.
One of the top Salesforce Development Companies, Peeklogic, offers expert Salesforce Consulting services, All Development, Salesforce Integration, Quality Control, and Project Management in distinct industries. Moreover, this company is well-recognized for providing professional Salesforce CRM development services from the starting until the end of production.
One of the best Salesforce Development Company in India, Atocloud, offers all the services relevant to Salesforce CRM Development, such as Salesforce Consulting, Salesforce Lightning, Data Migration, Administration, Integration, Customization, and more CRM services. Atocloud's expert Salesforce developers are the key to the success of its clients' business.
How much does it cost to hire salesforce developers?
Well, there exists a process to hire Salesforce certified developers for enterprise and startups to meet the business targets and it varies from company to company. Commonly you will find the hiring module below:
Full-Time: When you want to hire a salesforce developer full-time to accomplish your project needs in which a salesforce developer does his job in office timing.
Part-Time: If you need a Salesforce developer for a specific time, you can pick for particular hours also.
Hourly Basis: If your requirement for a salesforce developer is for a particular number of hours, then you can hire a developer for specific hours as per your need.
Freelancer: You can also hire a Salesforce developer on a project basis.
The cost to hire a Salesforce Developer depends on the hiring module you pick. You only need to check the experience and certifications of the candidate.
Top Brands Using Salesforce
Well, various brands all over the globe are using Salesforce and growing their business at a faster pace. Let's know about a few as below:
Toyota Motor Company – Revolutionising the Ways of Working & Communication
By sharing his real experience with Salesforce services, President & CEO of Toyota Motor Company, Akio Toyoda said, "Being able to grasp what employees are talking about through Salesforce is incredibly valuable to me."
Check out the Success Story of Toyota.
American Express – A Future-Proofed Company
By redefining customer service with Salesforce to meet the 21st Century, Greg Keeley, EVP of Global Corporate Payments said, "It's a platform for our employees — sales, accounts development, servicing, marketing, and product people — to communicate, react in real-time, and solve customer problems,"
Check out the Success Story of American Express.
AirAsia – Spreading Customer Happiness
By thanking Salesforce for making their guests happy, CEO of AirAsia Group, Tony Fernandes said, "Making our guests happy means placing customers and their needs at the center of everything we do. Salesforce is the heart of this customer-obsessed approach as it gives us a complete view of our guests across all channels, allowing us to deliver a faster, more personalized service."
Check out the Success Story of AirAsia.
Puma – Stays 'Forever Faster' with Salesforce
Being happy with the outcomes, Global Head of eCommerce at Puma, Ken Kralick said, "The site is faster. The user experience is better, and the conversion rate is better. Full stop."
Check out the Success Story of Puma.
Vodafone – Offering Great Customer Service Experience
Vodafone is delivering a delightful and speedy consumer experience. By showing gratitude to Salesforce, Head of The Sell Domain Delivery, Christian Tchatchouang said, "I see Advisory Services as a vital contributor to the success of our endeavors. They are trusted advisors who elevate our relationship with Salesforce from being a supplier to a key partner."
Check out the Success Story of Vodafone
Coca-Cola – Powering Multiple Parts of Its Business
By getting impressed with the flexibility of Salesforce, CEO of Coca-Cola Ulrik Nehammer said, "We literally have billions of transactions a day on Salesforce. And everything is connected, collaborative, and mobile."
Check out the Success Story of Coca-Cola
GE – Bringing Its Best Inventions To Life
GE Aviation used Salesforce to get connected with commercial customers and handle opportunities. CMO of GE, Beth Comstock admitted that Salesforce offers the synthesis of data to everyone that they need to know their customers, he said, "Data is good, but real-time information from Salesforce is better."
Check out the Success Story of GE
Sony Electronics Asia Pacific – Tunes in Customers
By meeting the business targets easily and at a faster pace, Head of Customer Relations Operations, Sony Electronics Asia Pacific, Catherine Ong said, "keeping customers happy is easier when customer cases are managed as one unified agent experience. This is the magic of the Salesforce Service Cloud."
Check out the Success Story Sony Electronics Asia Pacific
Well, these were just a few that we exhibited from a pool of Top Brands using Salesforce. Now you might also believe that Salesforce clutches that power that you need for your business.
Wrapping Lines
Hiring the right Salesforce partner will speed up your journey towards success by supporting you from the starting until the end.
The aforementioned are top Salesforce Development Companies in India, that are based on their customer reviews and ratings. They offer skilled Salesforce Professionals to bestow a custom-made and comprehensive array of Salesforce solutions. If you are looking to hiring the best Salesforce developers, this is a list you may assess that is based on your business needs and budget.