Free intermittent fasting apps are emerging as a prevalent way to eliminate obstinate weight and take a step towards a healthy lifestyle. As a matter of fact, intermittent fasting has no direct relation to dieting. In fact, it doesn't have anything to do with an individual's meal; rather, it just focuses on altering eating windows. There are several sorts of periodic fasting plans to choose from, and here is a quick look
16:8 Method – This plan includes 16 straight hours of fasting; the person can plan their meals in the remaining 8 hours of the day.
5:2 Method – Individuals following this plan are allowed to eat habitually for five days, but they have to limit their calories to 500-600 for the next two days.
OMAD (One Meal A Day) – It is identified as the most intense intermittent fasting plan; here, the individual can have a single meal and fast for the remaining hours of the day.
An individual can pick any intermittent fasting plan according to their goals and also take help from free fasting apps for aided support. Switching to a healthy diet and exercising can help achieve the desired results even faster.
Top Free Intermittent Fasting Apps
Intermittent fasting is undoubtedly one of the most effective ways to reduce unwanted weight and get fit. However, it can turn out to be a daunting task as the person needs to track their calories, protein intake, meals, etc. Keeping track of all these factors manually can get frustrating after a specific period.
Thanks to technology, free fasting apps are here to help individuals in their fitness journey. These applications can help improve an individual's overall health by specifying eating windows. Here is a glance at the best free intermittent fasting apps.
| | | | |
| --- | --- | --- | --- |
| Name of the Fasting App | Number of Downloads | Year of Release | Compatibility |
| Fastic | 10M+ | 2019 | Android, iOS |
| Window | 1M+ | 2019 | Android, iOS |
| Zero | 1M+ | 2016 | Android, iOS |
| BodyFast | 10M+ | 2018 | Android, iOS |
| FastHabit | 50K+ | 2019 | Android, iOS |
Zero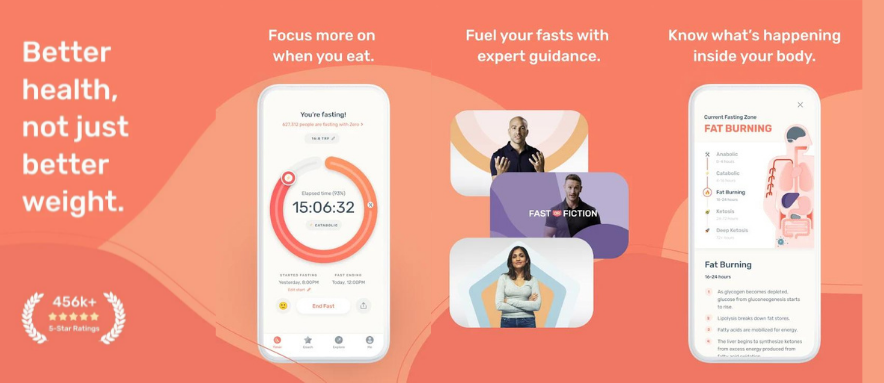 Zero is the first name on our list of best free intermittent fasting apps. This application offers journals, timers, and other essential tools to help monitor meals, calories, and eating patterns. Users can also access informational articles on meals, beverages, sleep, and fasting to understand better how intermittent fasting helps. It also allows the user to sync fasting with the clock by fetching the user's location. The user-friendly interface makes this application ideal for newbies and experienced practitioners of periodic fasting.
Features – Seamless Customization, Progress Tracking, Journals, Calorie Tracking
Plans – $9.99/Monthly and $69.99/Yearly
Window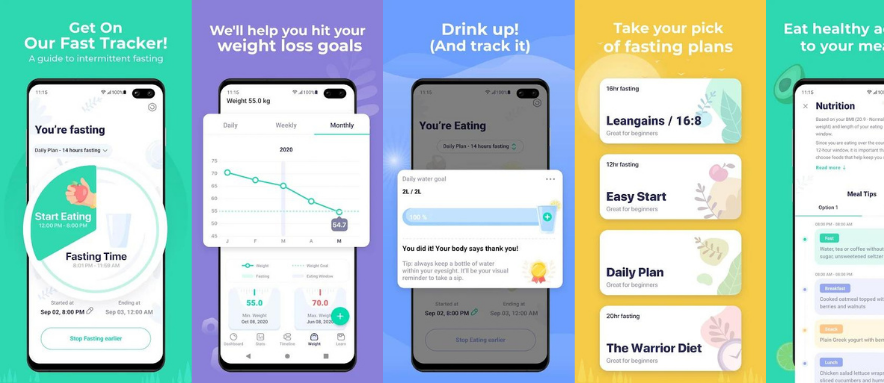 Window is one of the top free fasting apps packed with unique features. The users can conveniently schedule their eating windows and get notified as the window begins or closes. The window app also lets users sync data with their Apple health application. The app users can also conveniently track and monitor their calories, weight, and progress. Using the window app, the practitioners of intermittent fasting can define the most suitable fasting time.
Features – Manual Configuration, Customizable IF tracker, Weight Journal, Timely Reminders, Water Tracker
Plans – $9.99/Monthly and $39.99/Yearly
Fastic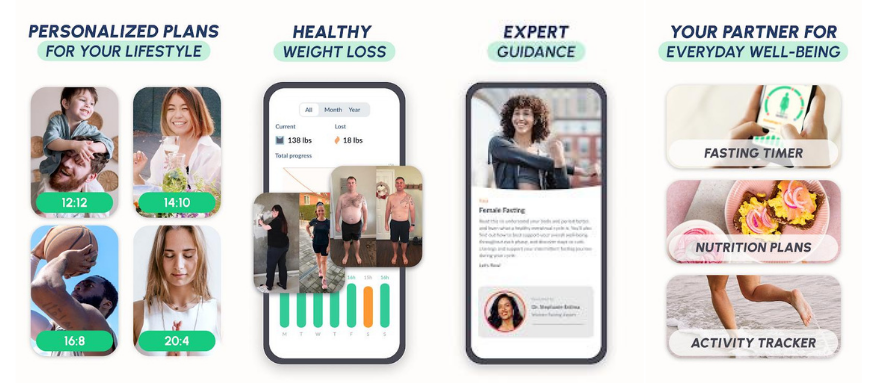 Another name in the list of best free intermittent fasting apps is Fastic. It understands the importance of loading the body with low-fat, carb, protein-enriched, and nutritious food. Consequently, it offers 400+ healthy and delicious recipes to its users. The Fastic app also educates its users about how the body reacts during periodic fasting. On top of that, the user gets access to features like a step counter and community following to share progress with others.
Features – Step Counter, Water Tracker, Recipe Book, Activity Tracker, Fasting Timer
Plans – $11.99/Monthly, $27.99/Quarterly, and $74.99/Yearly
BodyFast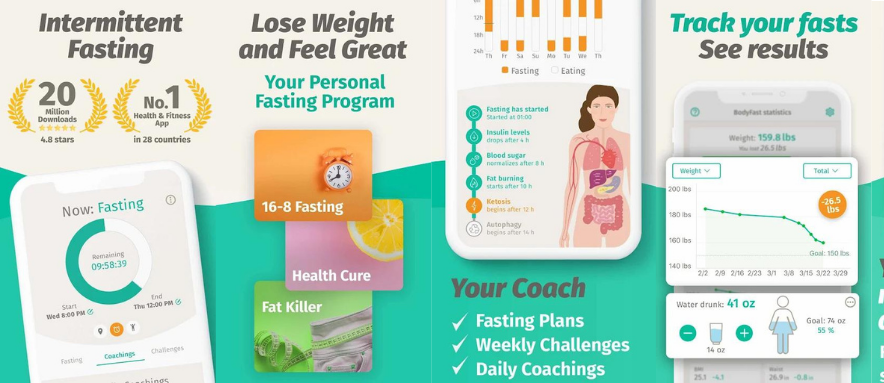 Another name in our list of top free intermittent fasting apps is BodyFast, which offers 10+ periodic fasting options. Additionally, the BodyFast app also provides a lot of tips and guidance related to meals, calories, and fasting. The app users can also follow the meal plans of any particular coach for favorable results. Weekly, bi-weekly, and monthly challenges are organized regularly to boost the motivation and competitiveness nature among the practitioners. The BodyFast app also has a dedicated FAQ section, answering all the common questions.
Features – Fasting Timer, Weight Tracking, Water Tracker, Knowledge Pool, and 10+ Fasting Plans
Plans – $4.99 Yearly and $11.99/Lifetime
FastHabit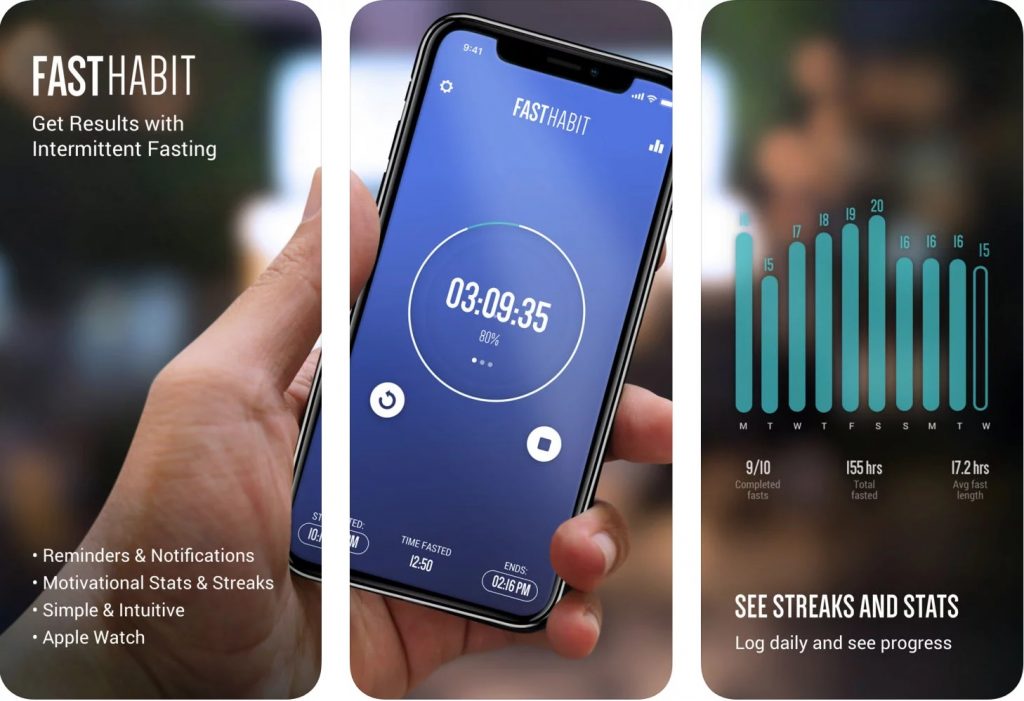 Last but not least FastHabit is counted among the best free fasting apps. This application is highly recognized for offering several periodic fasting plans. The app users can conveniently set up the fasting window according to their pre-defined schedule. The FastHabit app can conveniently connect with the Apple Watch and Health application. Like every top free fasting apps, it lets the app user to track calories, monitor progress, maintain journals, and set reminders.
Features – iPhone widget, Weight Tracking, Weekly overview, Push Notification, iCloud Syncing
Plans – $2.99/Monthly
How much does Fasting App Development Cost?
While most people leverage free intermittent fasting apps to get in shape, folks with a business mindset are busy generating tons of profit. The intermittent fasting apps are free on App Store and Play Store, though they can generate hefty profits through paid collaborations, advertisement, premium subscriptions, etc.
The intermittent fasting application development cost cannot be specified as it hinges on various factors. The developer's origin and time required to develop the application are the two chief components defining the development cost. Here is a glance at the developer's charges, country-wise.
| | |
| --- | --- |
| Country | Charges/Per Hour |
| United States | $40-$75 |
| Brazil | $35-$70 |
| Ukraine | $30-$65 |
| South Africa | $25-$45 |
| India | $20-$45 |
Conclusion
These are some of the best free intermittent fasting apps used by millions of people to get fit. All the applications are packed with excellent features like weight tracking, fasting timer, recipe book, timely reminders, etc. An individual can pick any of the above-mentioned intermittent application that suits best according to their requirement.
Suppose you are more interested in free intermittent fasting app development. In that case, we are here to turn your vision into a profitable business model, leveraging our years of experience and expertise.
FAQs (Frequently Asked Questions)